Tomorrow You Can Exercise in Rome!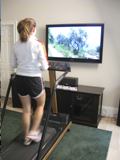 Increase your fitness while exercising in Italy! or in England! or in any of the beautiful world locations with our Treadmill Scenery DVDs!
Exercise while traveling through beautiful scenery from around the world, as viewed on our DVDs of scenic travel in Europe, Egypt and the United States!
Click Here for purchase price and more info.
Over 20 Scenery DVDs To Choose From
You choose the DVD for the scenery you want to view as you exercise on your treadmill, elliptical, stair stepper, Nordic Track, or indoor exercise bike. Exercise to maintain a healthy lifestyle or to lose weight, while viewing our DVDs which take you through some of the most beautiful locations on Earth. Our DVDs include travel through scenic locations in England, Italy, Egypt, and other beautiful countries in Europe, as well as travel through locations in the United States from Maine to Hawaii. Improve your fitness while maintaining a healthy lifestyle as you exercise while viewing one of our DVDs which have been filmed in many of the most beautiful locations worldwide.
Once you make your choice from among the scenic exercise DVDs we have available, you can walk or bike through enjoyable scenery as you improve your fitness, maintain a healthy lifestyle, or exercise to lose weight. You may choose to view one of our DVD walks as you exercise on your treadmill , elliptical, Nordic Track, or stair stepper, or you may choose one of our biking DVDs to enjoy while using your indoor exercise bike. You may also enjoy viewing our DVDs from the comfort of your favorite chair, allowing you to travel without leaving home. However you choose to view our travel DVDs, you can imagine yourself on location with us in Europe, Hawaii, and other locations which are known worldwide for the beauty of their scenery.
Click Here for purchase price and more info.
Select Your Destination
Select a DVD from our catalog of DVDs which facilitate different levels of activity, while featuring enjoyable travel through many beautiful regions of Europe, the United States, and other world-renowned locations of attractive scenery. Enjoy worldwide travel on your treadmill, exercise bike, elliptical, or other home exercise equipment. Walk, run, or bike as you travel the world via one of our scenic DVDs which make exercising fun and enjoyable.
Click Here for purchase price and more info.
Customers Tell Us...
That our scenic DVDs motivate them to exercise more regularly and more frequently, enjoying their exercise more as they travel via our DVDs. Enjoy YOUR daily exercise as you burn extra calories, lose extra weight, and achieve and maintain a higher level of physical fitness!
In fact, please read what recent customers have said about how our Virtual Experience DVDs are helping them:
Customer Emails:
"For treadmill users like me, these virtual walks are the greatest thing since sliced bread. As other contented customers have noted, these DVDs provide a major incentive to get on that exercise equipment and to keep at it for longer than you would be inclined if you were staring at a blank wall. What I like best - besides being instantly transported to places that otherwise it would be impractical to visit - is the sense of immediacy, the sense of actually being there, that you get from watching these videos - as opposed to conventional travel documentaries. You have the impulse to say "hello!" to people walking past you, or to get out of the way of two and four-wheeled vehicles coming at you and from behind. Plus, I enjoy the sense of being in a continuous state of anticipation and discovery, of never knowing what's around the next bend, while being surprised and delighted with each succeeding vista. Larry B."
"Hi! I just had to tell you how much I LOVE this DVD! This DVD is superbly made, I can't believe how realistic it is - it's like I'm really there! A particularly pretty scene was going by on the left and I actually turned my head to keep looking at it it was so real - imagine the disappointment of seeing my funky old basement steps instead - LOL! You will DEFINITELY be seeing more orders from me - these DVD's will keep me walking! They make an otherwise boring treadmill workout something to look forward to! Thank You so much! Missy"
"THANK YOU AND YOUR FAMILY FOR MAKING THESE VIDEOS. I HAVE BEEN ABLE TO TAKE MY ELDERLY GRANDMOTHER ON VIRTUAL WALKS TO DISTANT LANDS THAT SHE WOULD NEVER HAVE BEEN ABLE TO GO BUT HAS ALWAYS DREAMED OF. THE QUIET MOMENTS OF DISCOVERY THAT SHE AND I HAVE SHARED DURING OUR EXPLORATION OF NEW LANDS IS A WONDERFUL GIFT. SHE LOOKS LIKE A CHILD WITH A BRIGHT WORLD AHEAD OF HER. I'M HONORED I CAN HELP FULFILL A DREAM OF HERS. I THANK YOU AND YOUR FAMILY FOR HELPING TO MAKE IT POSSIBLE. NEWEST EAGER FAN, KIMBERLY W."
"Just biked through the entire DVD this am - beautiful scenery, loved the birdsong and the sheep noises throughout. First time I've been able to go that long on the bike, it felt SO good! Please let me know when the one of the Blue Ridge Pkwy is available, I definitely want one! Saw in your catalog that you have one or more on Greece - I was there several years ago, would be very interested to see the details on that one. Keep up the great work - you're making my weight loss program fun and easy! C.D."
"I do not do this very often with products I order, but I would truly like to thank you for your product. I was looking for something to help me get through my workout and this was it! I was a little sceptical at first, thinking that I would not enjoy this since I love being outdoors. After receiving the initial DVD's I ordered, I soon discovered it is a great feeling to be able to jump on the treadmill and be transported away from the days stresses. The hour goes by very quickly and I get a mini vacation. On those days I can't be out on the trail because of weather or time, I bring the outdoors in! I have just ordered four more DVD's to add to my collection and I will routinely be checking your web site for new jogs. I was able to drop some pounds, go sight seeing and make my doctor happy all in one shot. I would love to see more nature trail (mountain biking) or beach runs away from the busy city or town life. Again, thank you so much. These will be workout DVD's that will not gather dust. Respectfully, S.L., California"
"I LOVE your DVD's. They inspire me everyday to get on the tread or spinner. When I first began my quest roughly six months ago my health was not something to brag about. I had a heart attack a day before my 46th birthday and luckily very little damage was done. After jumping on the health band wagon I have lost a significant amount of weight. My cholesterol is 160 and I am off all my meds except the aspirin that I take every morning. I couldn't have done it without you and your innovative product. You made a difference in my life as well as my wife and two small children. Thank you and god bless!! Sincerely, Frank"
"Thank you so much for this wonderful line of videos. I have been using the first ones I purchased. I love them! And what a difference they make. I had been using the elliptical watching TV and could only go 20 minutes. I found I was so bored - especially during the commercial breaks. I was just watching the clock on the elliptical forcing myself to complete 20 minutes, and about 1/2 mile. Now with your inspiring DVDs I go the entire 30 minutes on the walking tours, and at a faster pace. I'm only adding 10 minutes, but I'm almost doubling the distance I go. That is incredible! I am so confident that with the help of your wonderful videos that I will lose the weight and get my diabetes under control with the goal of getting off the meds all together. THANK YOU! Do you have any other DVDs in the works? These will keep me entertained and inspired for a long time, I'm sure, but I'd love to keep adding to my collection. Thanks, again. Kathy"
"I really have enjoyed these DVD's. During 2008 I was able to lose 55 pounds by walking while watching these. A great product. Barb"
"Your product has made it much easier for me to get on the treadmill, as my Cardiologist has suggested to increase my workouts from 3 times per week to 6 or 7 times. Before finding your product, I had used regular travel DVDs during my workouts, but frankly, they did not inspire motion or a walking cadence as your virtual walk DVD does. I now enjoy the workout, rather than merely endure it. I'll undoubtedly add more in the near future, including the virtual bike rides for both my treadmill and my stationary recumbant. Great product! Allen (age 63)"
"All I can say is THANK GOD for you! You have made my exercise so much fun and enjoyable, and I will have you to thank when I lose the weight that I have to. Best regards, Debi"
"With the help of your DVDs and some heavy metal music I managed to lose over 20 lbs on the treadmill over the last 3-4 months. They do help a lot to make this daily hour on the treadmill to be much more fun. Keep up the good work! Regards, Kay"
"I purchased Maine & 8 other of your Virtual Walk DVDS. I am very satisfied with these, as they have attributed to about a 30 lb. weight loss since January. I notice you have 3 that I don't have and want to order them. Thanks, Chris"
"All I can say is WOW!!!! Great quality ! Superb definition! I am in shock. And it only took 4 days and it was already in my hands!! Thank you Wayne !! I hope you make more jogging DVD's because you've got yourself a buyer. Thank you, Jeff - Puerto Rico"
"I love your DVDs, I actually look forward to getting on the treadmill now :). I've purchased 8; 7 of those are places I've been and it made me feel like I was back there...wonderful! Jim"
"I have purchased three of your DVDs and loved them. They have literally changed my treadmill workouts from a chore to a delight! I am in the process of buying three more, and will most likely be back for even more before long. I am interested in some of the new titles that I see you have in the works. Please put me in your "Wants new titles" folder. Thanks for such an innovative product. (and I bet you have fun making them, too!) Kate"
"Your DVDs are a good stress reliever for me to "get to another place" visually. . .and such lovely scenery!! Thanks so much for your quality work. Greatly appreciated, and I (in turn) tell others about you. I have all the English and Italian DVDs now. . .and am working on others. Anita"
"I just ordered my second set of 4 dvds for the treadmill. While I don't think exercise will ever be my favorite thing, your dvds have certainly improved the experience. We bought a flat screen tv to put on the wall above the treadmill, so I really get into the dvds while walking. The first time I used the English Countryside video, I remember thinking as I was walking, "boy, this path is getting narrow & those plants look kind of prickly." It's so much like you're really there. Just wanted to say thank you for coming up with such a great idea. Lindsay"
"I'd like to commend you for the outstanding customer service you provide. My sister, Addie, was very pleased to learn that the dvds were shipped by Priority Mail this afternoon. Best Regards, Martin"
"I just love your videos, before I bought your dvds I didn't stay on the treadmill very long because it got boring but now even if I get tired the virtual walks keep me interested and I want to keep walking. It's almost like really be there! Thank you, Lisa"
"Your virtual walk DVDs are not just a purchase, they are an investment. I have been able to walk an entire hour on my elliptical machine two days in a row. And yes I enjoy the 1 hour walk. I'm excited about starting a new set of DVDs to walk with although I have not decided which DVDs to buy next. Thanks, Kimberly"
"I just ordered your DVD on Mt. Desert Island, Maine. While I mainly got it because we are planning a trip in a few days to Mt. Desert Island and I wanted to see what it was like, I had the idea that I would use it to exercise on my elliptical as your reviews say it is great for that. I began watching it just for the sights and thought, well this will be silly to put on as I exercise although it was beautiful to watch. But just for the heck of it I put it on and got on the exercise machine and I was hooked. I felt like I was jogging down Cadillac Mountain and I really enjoyed it! Thank you so much for the fast shipping and the beautiful job you did. Thanks. Janice"
"We loved our two we just received last week and are ordering more! Polly"
"I am so excited about hearing you will have some dvd walks on the beach and in egypt. I love all your videos and today I purchased 6 more. I tell everyone I know about your site and how wonderful they are. I am already making my christmas list out and planning to give your videos out to friends and family. Thanks for making my exercise and leisure time so enjoyable. I walk on my mini trampoline during these dvd's. It is easy on my joints and I have so much fun just looking forward to what's around each corner. lol Sylvia"
"Your English Countryside and London Waterways DVDs are great. Find bits and pieces of scenery in each new viewing. Exercise sessions pass by before you know it. Nice camera work, feels as if you're walking along the roads and paths. Mark"
"I am so hooked, your DVD's are wonderful. I want to order 4 more. Shelley"
"Just wanted to let you know that I received the items today. They arrived in perfect condition. I did both of them on my elliptical. They are just beautiful. I can't wait for you guys to list the faster vids. Someday you should film one at night. The menu pic from the London one is so peaceful. Thanks so much for making these vids. I plan to buy more. Thanks again. Bev"
"I want to let you know how much my mom absolutely loves the Cotswolds DVDs I purchased from you for her Christmas gift. She said watching the DVDs is like a delicious treat to savour. I am so pleased this unusual present was so well received. Thank you for your helpful and personal service. Dianne"
"We LOVE the 3 Italian DVDs. They are magnificent! We have played them several times already and we are seeing new things each time. You stop and pause exactly where we want you to pause. We truly look forward to the new Italian releases. Thanks for adding a bit of happiness to many lives, we greatly appreciate your work. Norma"
"Thank you so much! I just love your videos. Before I bought your dvds I didn't stay on the treadmill very long because it got boring but now even if I get tired,the virtual walks keep me interested and I want to keep walking its almost like really be there! Thank you, Lisa"
"This is the most awesome idea ! Watching beautiful scenery while I am on the treadmill ! Mary"
"Just wanted to let you know I just gave my mom the DVD's for her birthday on Friday. They are a HUGE hit!! Not just with her but with everyone we tell!! I put one onto our 52" and chuckled at all the guests standing there with their jaws dropped!!! It is such an amazing concept that everyone wants them!! Lucille"